SUNY Plattsburgh Green Walkway
Project Completion
December 2017
Location
Plattsburgh, New York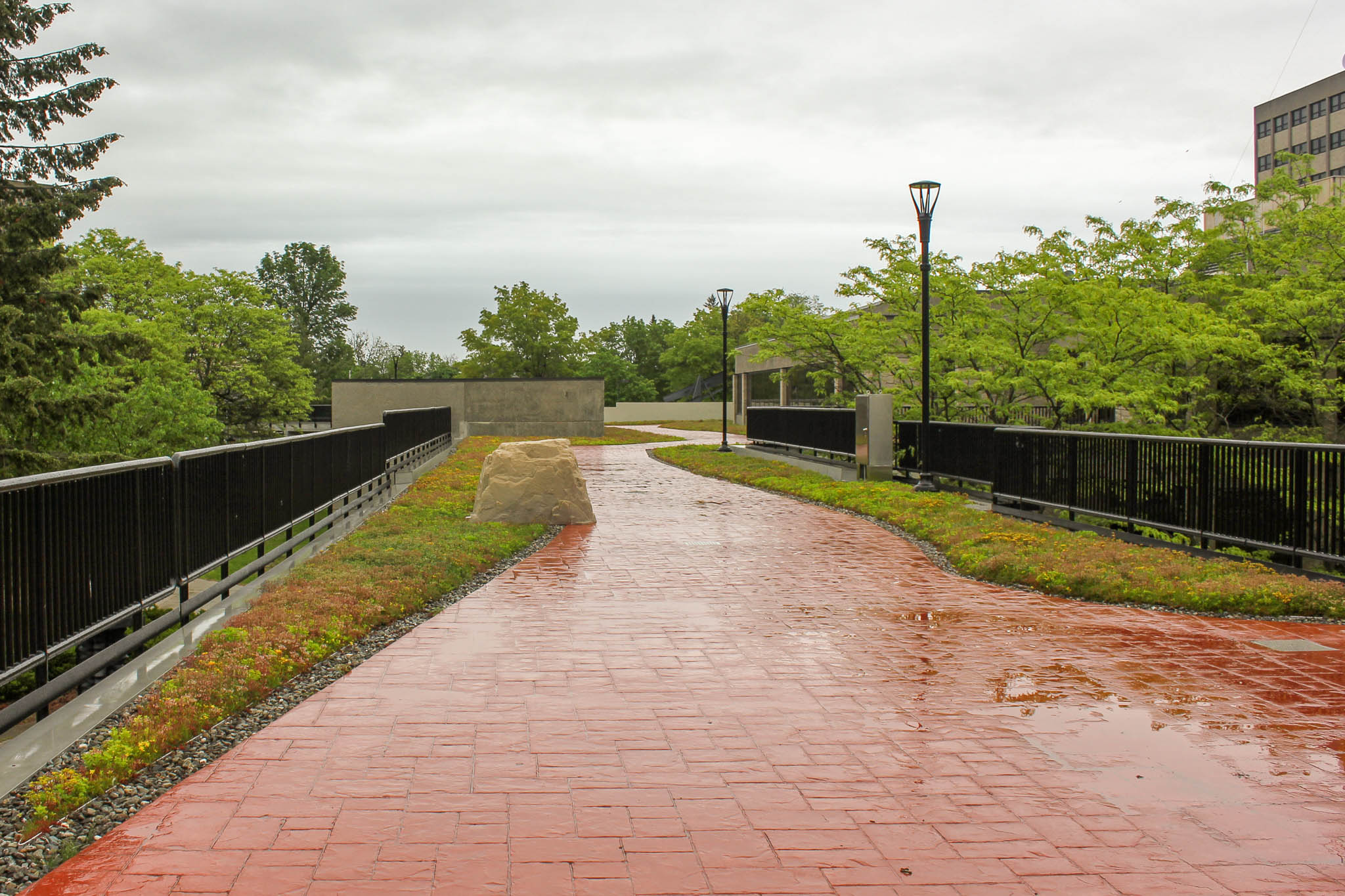 RENOVATION OF CENTRAL CAMPUS WALKWAY
The rehabilitation and beautification of the existing second-floor elevated walkway replaces an aging and uninspired central crossroads connecting multiple campus buildings at SUNY Plattsburgh. A stamped concrete walkway with integrated radiant heating replaces damaged concrete pavers to reduce the need of snow removal and the use of harsh chemicals in the winter. Organically-shaped greenways of hardened sedum varieties add color and vitality to the new walkway, while also providing important stormwater retention benefits unattainable with the previous impervious paver landscape.
Recover installed thousands of linear feet of curvilinear aluminum edging, conveyed and installed over 150 yards of growth media, and planted fully-vegetated sedum mats over the entire walkway network for an impressive day-one impact. Recover also performed value engineering services for the general contractor, Murnane Building Contractors, and the design team from Ryan Biggs Clark Davis, saving the institution over 30% of the projected costs of the green roof assembly.
The SUNY Plattsburgh Podium Rehabilitation project was selected as a winner of the 2018 SEI Award in the "Other Structures" category.
Client Name
SUNY Plattsburgh
Engineer
Ryan Biggs Clark Davis
General Contractor
Murnane Building
Contractors
Green Roof Installer
Recover Green Roofs
Plant Types
Sedum varieties
Green Roof Components
ZinCo
Soil Media Supplier
Naturcycle
Awards
2018 SEI Award – Category "Other Structures"